29 March 2021
Source: Press release – France Relance
This year, the COVID-19 health crisis has done much to reinforce the conviction that a strong economy cannot exist without a strong productive sector. The health and economic crisis has shone a spotlight on the weak points in our production and supply chains. In several strategic areas, both for our industry and for the life of the French people, our self-sufficiency and economic sovereignty have been proved lacking. We are too dependent on globalised production chains, international logistics networks and trade-offs involving the sovereignty of other countries. It is vital that we regain our control over the levers to our current and future resilience. Based on this observation, the French government launched an ambitious programme – France Relance – aimed at regaining control over the levers for our current and future resilience and meeting the challenges of relocating production capabilities.
Specifically, France Relance supports projects to set up strategic industrial activities through two complementary approaches: 
A call for expressions of interest (CEI) focusing on healthcare products that target the fight against COVID-19, with a 300M euros fund from the PIA4 (Investing for the Future programme), renewed following the success of the first "Capacity building" CEI opened in June 2020.
A call for proposals under the France Relance initiative with a fund of 600M euros designed to support business investments and relocations in critical sectors such as healthcare, agro-foods or electronic engineering.
In January 2021, it was announced that 55 projects had won backing. Today, we are presenting another 105 winning projects. These projects will receive 184M€ in State funding and have the potential to generate over a billion euros in industrial investments in addition to over 6,700 jobs.
This list of new projects includes 7 that are being developed by companies belonging to the Atlanpole Biotherapies cluster: AlgoSource, Clean Cells, GoLiver Therapeutics, i-SEP, Naogen Pharma, NG Biotech and Selha Group. Zoom on each of the winning projects in wave 3.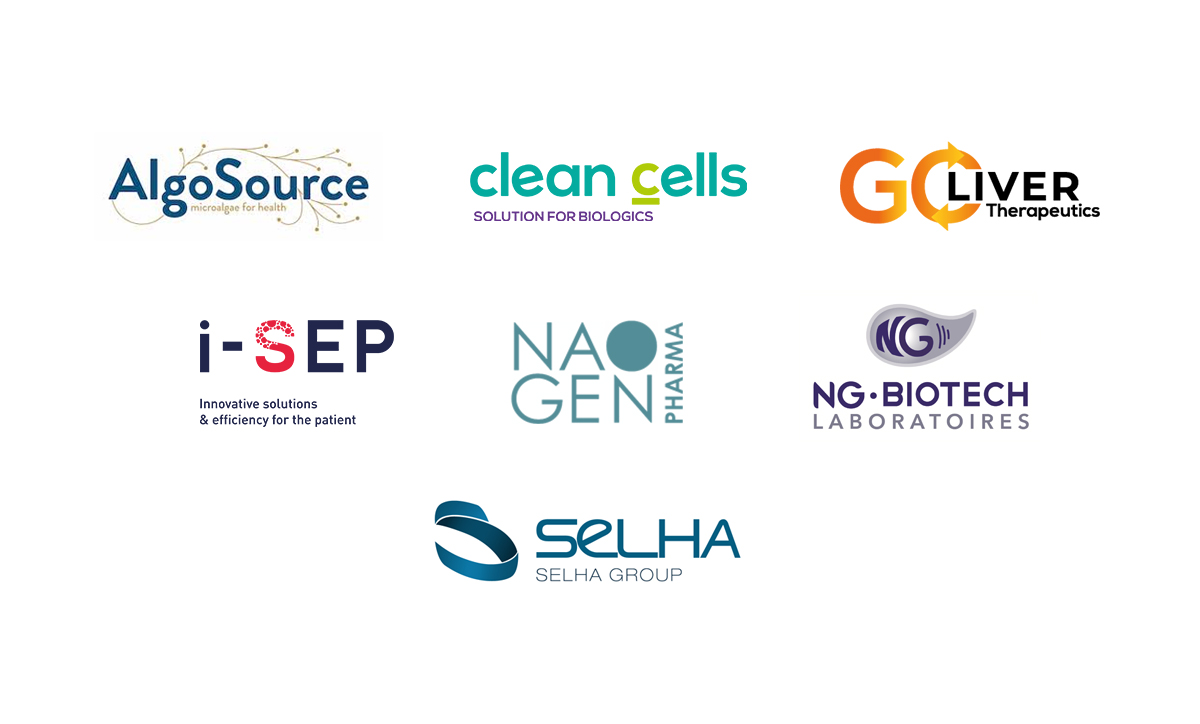 AMP2P, PROJECT DEVELOPED BY EINA (NORMANDY SITE OF THE SELHA GROUP, WHICH HAS ITS HEAD OFFICE IN RENAZÉ, MAYENNE)
SELHA Group is an industry expert specialising in electronics solutions for aeronautics, defence, telecommunications, energy and medical markets. The Production Process Automation and Modernisation project will provide the EINEA site with a high-performance industrial tool that meets the expectations of key customers in the aeronautics industry and diversification requirements. This project has a potential for the future creation of close on 200 jobs.
IDACE, PROJECT DEVELOPED BY NG BIOTECH (GUIPRY, ILLE-ET-VILAINE)
NG Biotech is a biotechnology company that commercialises rapid diagnostic devices for bioanalytical testing, with a specific focus on detecting COVID-19. The project consists in ramping up its reagent production capacity and relocating its plastics plant, thereby reducing its dependence on foreign suppliers and guaranteeing additional production capacity. This project will boost the creation of 9 direct jobs.
GO MILLENIUM, PROJECT DEVELOPED BY GOLIVER THERAPEUTICS (NANTES, LOIRE-ATLANTIQUE)
GoLiver Therapeutics develops advanced therapy medicinal products using human pluripotent stem cells that act on the liver's ability to regenerate, thus bypassing the need for transplantation. The project focus is the launch of the iMilleniumTM industrial bioproduction platform, the first platform that responds to a) the demands of industrial production and of using a cell-therapy medicinal product in clinics and b) the needs of the market.
GO RADIOPHARMA, PROJECT DEVELOPED BY NAOGEN PHARMA (SAINT-HERBLAIN, LOIRE-ATLANTIQUE)
The project consists in creating a radiopharmaceutics unit producing Sr82/Ru82 generators for Positron Emission Tomography imaging – an emerging technology in Europe (TEP-Rubidium-82). The plan is to set up a French production site for these generators, thereby reducing our dependence on manufacturers outside Europe.
PHAGOPROD, PROJECT DEVELOPED BY CLEAN CELLS (MONTAIGU, VENDÉE)
Antibiotic resistance is rising to dangerously high levels in all parts of the world. Bacteriophages, viruses that attach to bacterial cells and cause their lysis, offer one of the most promising alternatives to antibiotics. The project aims to create GMP production suites and improve manufacturing processes to make phage therapy available to patients.
PORPHYCARE, PROJECT DEVELOPED BY ALGOSOURCE (SAINT-NAZAIRE, LOIRE-ATLANTIQUE)
AlgoSource specialises in the development and production of food supplements and nutraceutics using microalgae. Its project focus is to produce and market novel industrial products derived from microalgae (porphyridium). These protein-rich microalgae, a resource that is currently under-exploited, carry great promise for the booming health and nutrition sector, which represents a powerful issue of sovereignty. The project should drive the creation of 25 jobs.
TAKESAMEOFF, PROJECT DEVELOPED BY I-SEP (NANTES, LOIRE-ATLANTIQUE)
i-SEP designs and commercialises an innovative blood management system with the aim of making intraoperative autotransfusion more widely available to patients. The project plans to industrialise this system with a marketing horizon of 2022. This will help to relieve pressure on hospital blood banks and ICUs.

Four other projects developed by other cluster members were selected during the first two waves: Growilogic developed by Affilogic (wave 1 – November 2020), Tonio developed by Xenothera and the Recome and Ambimed projects developed by Tronico (wave 2 – January 2021).
Which brings to 11 the number of innovative healthcare projects developed by cluster members, with backing from the National Recovery Plan.