26 November 2019
Nantes, France – November 25th, 2019 – Hera-MI, a French company specialized in digital medical imaging applied to breast cancer, announced that Breast-SlimView, its patented clinical decision reading system for 2D & 3D mammography received EC Mark approval. Hera-MI, member of Atlanpole Biotherapies, is the first French company to receive the EC Mark Approval for an Artificial Intelligence (AI) solution for breast cancer detection in mammography.
Breast-SlimView offers an innovative and disruptive reading support where only relevant information is displayed. Radiologists will be able to free themselves from overloaded information and visualize potentially suspicious areas at a glance. The patent is based on mammography exams negation. Breast-SlimView's algorithm based on Artificial Intelligence automatically detects and removes all normal physiological areas of the breast (vessels, glandular tissue, fatty tissue and mammary gland) and replaces them with artificial fat. Breast-SlimView will assist radiologists and enable them to decrease the time they spend on non-problematic cases and spend extra time on more complicated ones. Hera-MI will help radiologists to focus on their core business, which is their added value: the analysis of potentially suspicious areas.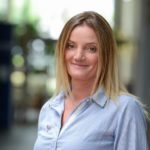 Mrs. Sylvie Davila, Hera-MI CEO and founder, comments:
« Obtaining the EC certification for Breast-SlimView will enable us to begin installations in France starting February 2020 in partnership with Fujifilm France. By combining our solutions with Fujifilm's products, a huge number of radiologists and patients will benefit from our innovations. Hera-MI's objective is to quickly implement an export strategy in Europe, the USA and the Middle East ».