1 March 2021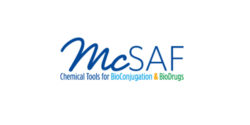 The European Patent Office (EPO) has granted the patent number EP3521314 on the McSAF Inside® technology to access DAR 4 antibody-drug conjugates, an emerging class of targeted medicines. This completes the portfolio of granted patents in France (FR3008408), Japan (JP6533222) and United States of America (US10307488). This is an essential asset for McSAF to become a key player in the bioconjugation field in the future.
Antibody-drug conjugates (ADCs) are an emerging class of targeted medicines. With nine drugs available on the market, five of them approved in the last two years underlining the expansion of the field. New technologies for improved and safer ADCs are a major challenge nowadays and McSAF Inside® technology allows to obtain homogeneous, more stable drugs for high value developments in and outside oncology.
About McSAF
McSAF is a young deeptech company based in Tours, France, specialized in the development of next-generation technologies for chemical modification of proteins. Its core expertise is the development of antibody-drug conjugates (ADCs) for oncology and beyond. Our business model is aiming at the licence-out of our proprietary technologies to propose bio-better and first-in-class products for a better patient care.