Schedules not specified
Digital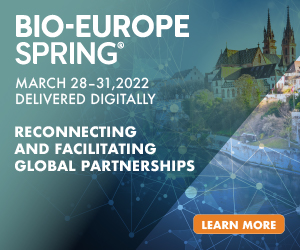 The sixteenth annual BIO-Europe Spring® premier springtime partnering conference will be held March 28-31, 2022 in a fully digital format. Through the pandemic and the pivot to digital, EBD Group's role and commitment to serve our sector and facilitate the crucial partnerships that drive innovation remains unchanged. Using EBD Group's proven digital event model this year's digital event will once more allow you to partner, remotely and safely over four days.
BIO-Europe Spring Digital 2021 is expected to bring together over 2,000 executives from biotechnology, pharmaceutical and finance companies from around the world, who will engage in more than 15,000 partnering meetings. Without the need to travel, more delegates can participate worldwide.
The entire event will be accessed in one seamless digital experience on EBD Group's gold standard partneringONE® platform. One-to-one meetings will be expanded to a 24-hr timeframe to accommodate and facilitate meetings with delegates from around the world. Scheduled meetings will take place during the conference with Zoom links. To facilitate networking outside of one-to-one meetings, a variety of networking opportunities have been created. Participants can engage in a conversation with other attending delegates through topic-driven networking sessions, wellness activities, and program-related chats. Live digital sessions allow participants to interact with thought-leaders on a wide range of therapeutic and business-development topics in real time.
Starting when partnering opens, on February 21, all registered attendees will have access to the online platform to browse the list of participating companies, delegates and posted assets looking for the next partnering opportunity. Additionally, watch the presentation of 100+ innovator companies on the platform to round up your partnering due diligence before sending a meeting request. Representatives from 50+ countries are expected which allows you to find opportunity beyond your usual territories.
Each week, on-demand content such as company presentations, sponsor and showcase company materials, and select program sessions will be released already up to four weeks prior to the live event. This on-demand and pre-released strategy allows attendees to discover new innovations and initiate new discussions at their own convenience, leading to more and higher relevance meetings than ever before.
How to get the most out of a digital visit to BIO-Europe Spring?
Efficient partnering is a dynamic process that starts early– registering earlier rather than later is the best way to get started.
By registering now, you will be ahead of the curve with the opportunity to fill out your partnering profile and be ready to start requesting your priority meetings when partnering opens, on February 21. Our statistics show that more than half of the total meetings have already been agreed upon and scheduled 2 weeks prior to the event. Calendars fill up fast, and the popular pharma companies need time to review the hundreds of meeting requests they receive.
Furthermore, and maybe most importantly, we want to encourage everyone to blocking off their calendars and to dedicate time to the digital event, same as you would have done for a physical attendance. Set time aside to navigate and familiarize yourself with our partneringONE platform, especially to those who might have not attended a digital event, yet. Think about it as if you were walking through the conference maybe you will discover a session around a topic you are interested, discover an innovative company presentation or strike up a conversation in a networking session. The opportunities are endless!
BIO-Europe Spring is produced by EBD Group, the leading partnering firm for the global biotechnology industry, with the support of the Biotechnology Innovation Organization (BIO).
For more information and online registration please visit our conference website at https://informaconnect.com/bioeurope-spring