1 December 2022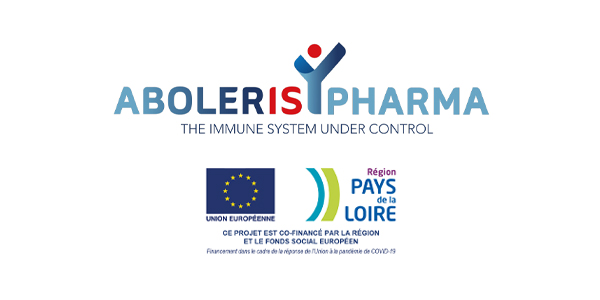 AbolerIS Pharma is a pre-clinical stage biotech company specialized in the development of innovative immunomodulators for the treatment of transplant rejection, graft-versus-host-disease and auto-immune diseases.
The company announces it will benefit from the REACT-EU program (acronym for "Recovery Assistance for Cohesion and the Territories of Europe"). REACT-EU is a European initiative integrated into the "Next Generation EU" recovery plan aiming at promoting the repair of damage following the crisis caused by the coronavirus pandemic COVID-19 and preparing for a green, digital and resilient recovery of the economy. REACT-EU is deployed in each French region through an addition to the 2014-2020 ERDF-ESF regional programs. Among the actions supported by REACT-EU in Pays de la Loire is support for innovative companies with high potential for job creation in the fields of energy transition, health and digital technology.
AbolerIS Pharma was awarded almost 1.5Mio Euro to support the CMC and preclinical program of its lead compound ABIS-45RC, an anti-CD45RC monoclonal antibody, to cover the period between October 2021 and March 2023.
About AbolerIS Pharma
Founded in November 2019 by Dr. Carole Guillonneau (Director of Research CNRS) and Dr. Ignacio Anegon (Director of Research INSERM), researchers in Unit 1064-CRTI INSERM University of Nantes, located at the Nantes University Hospital, together with Dr. François-Xavier Hubert, MD PhD. The company onboarded experienced drug developers and is focusing on the development of an innovative strategy to regulate the immune system: an anti-CD45RC monoclonal antibody. A clinical lead antibody has been selected and the GMP production has been initiated. The team has built a very strong preclinical package and is currently preparing a CTA submission for FIH studies. In October 2020, AbolerIS Pharma raised €2.5 million seed investment from a consortium comprised of Turenne Santé/Sham Innovation Santé and Newton Biocapital and obtained an exclusive worldwide license by Ouest Valorisation, a French TTO.
For more information:
Dr. Ann Meulemans, CEO Aboleris Pharma
ann.meulemans@aboleris-pharma.com