20 July 2016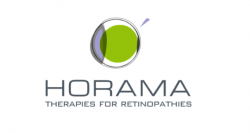 Horama raises €4 million with Omnes Capital, Sham Innovation Santé and GO Capital
Proceeds from this fundraising will be used to:
–  Bring HORA-PDE6B into the clinic,
–  Accelerate HORA-RLPB1 development,
–  Reinforce Horama's team.
Paris, France, July 8th 2016 – Horama (www.horama.fr), one of the leaders in ophthalmic diseases gene therapy, announces that it has completed a €4 million Series A financing with a syndicate composed of Omnes Capital, Sham Innovation Santé advised by Turenne Capital and GO Capital (via its fund GO Capital Amorçage). This fundraising will support the development namely of two products, HORA-PDE6B and HORA-RLPB1, as well as the reinforcement of Horama's team.