27 March 2019
Artificial intelligence used for the radiological diagnosis of breast cancer
The patented Breast-SlimView solution developed by Hera-MI provides an innovative and disruptive imaging method where only the relevant information is displayed. Hera-MI, a start-up, has specifically developed a tool enabling radiologists to dispense with extraneous information in order to focus on their core activity: analysing potentially suspect areas. Radiologists will be able to make use of this global decision support and imaging solution to optimise their diagnostic work.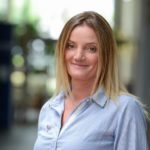 Mrs. Sylvie Davila, CEO and Co-founder of Hera-MI, tells us:
"Hera-MI's aim is to speed up the radiological diagnosis of breast cancer and make it more reliable, using artificial intelligence. The objective is to make this intelligence available to radiologists. Hera-MI Breast-SlimView is a global decision support and imaging solution designed by a radiologist for radiologists. We want to help them optimise patient care thanks to earlier diagnosis of breast cancer."
Hera-MI was established in April 2017 by two co-founding partners: Sylvie Davila and Dr. Bruno Scheffer. The Institut de Cancérologie de l'Ouest (ICO) supports the project as a shareholder and scientific partner. The laboratory LS2N (Nantes Laboratory of Digital Sciences) and the École Centrale Nantes are involved in Hera-MI's project as part of a CIFRE thesis supervised by Prof. Diana Mateus, an expert in artificial intelligence and the complex issues of medical imaging. Hera-MI is also supported by Atlanpole and Centrale Audencia-Ensa. Fujifilm healthcare became a scientific and business partner in 2018.