22 September 2021
Positive final Phase 3 results for Tedopi® in non-small cell lung cancer (NSCLC) after ICI failure.
Positive Phase 1 dose escalation results for BI 765063 (CD47/SIRPα pathway) as monotherapy or in combination with ezabenlimab (anti-PD-1) in advanced solid tumor patients.
Initiation of two Phase 2 trials with OSE-127/S95011 in Sjögren's syndrome (Servier sponsor) and in ulcerative colitis (OSE sponsor).
Initiation of two Phase 2 studies with Tedopi® in combination with ICI in NSCLC and in ovarian cancer in collaboration with oncology expert groups.
Global license agreement entered with Veloxis for FR104 in transplant indications for up to €315 million.
Strong non-dilutive financing including €11 million upfront/milestone payments and €6.9 million public fundings.
€9 million turnover and €27.3 million available cash as of June 30, 2021 providing financial visibility until Q3 2022.
OSE Immunotherapeutics will hold a R&D Day with live webcast presentation on October 12th at 4:00 p.m. CET.
Conference call with live webcast today at 6:30 p.m. CET / 9:30 a.m. ET.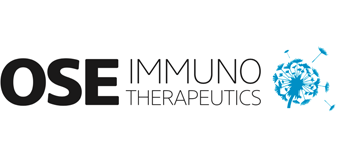 OSE Immunotherapeutics today reported its consolidated half-year financial results as of June 30, 2021 and provided updates on key milestones achieved during H1 2021.
Alexis Peyroles, CEO of OSE Immunotherapeutics, commented: "The first half of 2021 was marked by major clinical advances with promising data readouts on the one hand and the initiation of new clinical trials on the other. We also secured additional non-dilutive financial resources to continue investing in our R&D drug discovery engine which has continued to identify novel therapeutics for patients with high medical need in immuno-oncology and autoimmune indications.
The positive final results of the Tedopi® Phase 3 trial in non-small cell lung cancer patients in secondary resistance to ICIs presented at the recent ESMO conference include promising clinical benefit and good safety profile, and will support our discussions with the FDA and EMA on the best regulatory paths and next steps toward a potential approval. In parallel, the scope of Tedopi® is being broadened through two sponsored studies, one in combination with a PD-1 inhibitor in NSCLC for patients in secondary resistance to checkpoints inhibitors and another in ovarian cancer.
The first part of 2021 has also established OSE Immunotherapeutics as one of the key players in the promising CD47 space in solid tumors. Encouraging data with SIRPa inhibitor BI 765063 in combination with anti-PD-1 BI 754091, which were presented at ASCO and ESMO, support moving forward with the Phase 1 expansion trial to demonstrate the relevance of the combination approach as a potential therapeutic strategy in solid tumors.
OSE remains a partner of choice for pharma companies and we concluded a new license agreement with Veloxis, a leading transplantation company, to develop, manufacture and commercialize FR104 for all transplant indications.
We also strengthened our cash position through upfront and milestone payments from our pharma partners, public fundings and financing from the European Investment Bank received in July 2021, extending our cash position to Q3 2022."
Clinical results and advances in immuno-oncology and autoimmune diseases