20 July 2022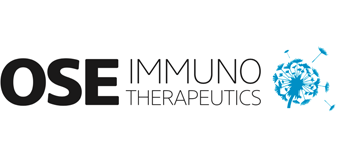 OSE Immunotherapeutics is pleased to announce the appointment of Alexis Vandier as Chief Executive Officer, effective immediately. Alexis Vandier brings an impressive track record of successes in Pharma across a range of international roles and therapeutic areas, including oncology.
Dr. Dominique Costantini, Chairwoman of the Board, said: "The Board of Directors is very pleased to announce Alexis Vandier as OSE Immunotherapeutics' new Chief Executive Officer. Given his extensive international managerial experience, along with his clear understanding of OSE' strengths and potential, we are convinced that Alexis is uniquely qualified to lead our accelerated growth and bring us to the next level. Alexis's strategic and inspirational leadership, along his deep knowledge of the pharma industry, will help deliver highly innovative and effective therapeutic solutions to patients and strong value to our stakeholders.
We also want to express our gratitude to Alexis Peyroles, who led the Company until January 2022 and was instrumental to the three strategic Pharma partnerships OSE entered. I am confident that Alexis Vandier, together with OSE's highly talented team, will continue to build on these achievements and further expand OSE internationally."
Alexis Vandier, the new Chief Executive Officer of OSE Immunotherapeutics, commented: "I am thrilled to join the OSE' team in this new role at a very exciting time. OSE is uniquely positioned among its biotech peers thanks to its highly innovative mindset and ability to deliver extremely differentiated firstin-class drug candidates both in immuno-oncology and immuno-inflammation. The pharmaceutical partnerships already in place are a strong endorsement to the quality of our science with our clinical stage IL7-receptor antagonist (OSE-127/S95011), CD28 antagonist (FR104/VEL-101) and SIRPα antagonist (OSE-172/BI 765063). The recent positive Phase 3 data of Tedopi® in non-small cell lung cancer beyond checkpoint inhibitors in secondary resistance has established the relevance of this T specific immunotherapy. These assets combined to the impressive potential of OSE's multi-target platforms make me confident in our ability to position OSE as a global leader in immuno-oncology and immuno-inflammation. Building on this large and promising portfolio and talented team, I am convinced that OSE can keep accelerating along this path and become one of the most dynamic biotechs of the next three years."
Alexis served as Vice-President – Global Asset Lead at Ipsen, heading their efforts to build a leading oncology platform, including their lead tyrosine kinase inhibitor (Cabometyx®, cabozantinib) which Alexis helped launch and reach its full commercial potential in various solid tumor indications and across 40 countries. Alexis also managed partnerships with Exelixis in the U.S., as well as with Roche and BMS (co-development in combination with nivolumab and atezolizumab).
Alexis' broad international and proven leadership experience were acquired over the last 20 years in various pharma positions. First at Sanofi where he spent 11 years in Corporate Strategy and Business Development, in Finance and Marketing, then 12 years spent at Ipsen working directly with Marc de Garidel in different global roles in Strategy, Business Development, Alliance management and Innovation/Marketing across multiples geographies (EU, Asia and U.S.). Alexis also became General Manager of Ipsen France where he accelerated the development of Ipsen around medical, market access and external affairs, driving successful launches in oncology and rare diseases.
Alexis is a graduate of Ecole Centrale de Lyon and holds a master's degree in engineering from the University of Economics, Lyon II.