26 January 2022
OSE Immunotherapeutics receives first notice of allowance of a patent for use of Tedopi® after failure with PD-1 or PD-L1 immune
Checkpoint Inhibitor Treatment in HLA-A2 Positive Cancer Patients Issued by the Japanese Patent Office
A New Protection Covering Tedopi® Until 2037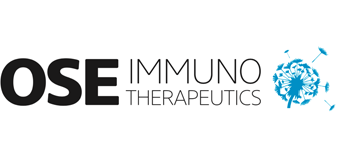 OSE Immunotherapeutics announced that the Japanese Patent Office has issued the notice of allowance for a new patent covering Tedopi®, a combination of neoepitopes, for use after failure with PD-1 or PD-L1 immune checkpoint inhibitor treatment in HLA-A2 positive cancer patients. This patent, which will further strengthen Tedopi®'s global intellectual property portfolio in immuno-oncology, will provide the product with a new protection until 2037.
This new patent recognises the innovation of a multiepitope composition (all peptides included in Tedopi®) administered after immune checkpoint inhibitor (progression of the cancer), in particular in secondary resistance situation.
Dominique Costantini, Chief Executive Officer of OSE Immunotherapeutics, comments: "This first notice of allowance for a Japanese patent for Tedopi® after failure with immune checkpoint inhibitors, issued in a significant territory, is of major interest and is the first step to the corresponding patent family that has been filed internationally in many other territories. In addition, it further supports the product's clinical development focus and the positive results of the Atalante 1 Phase 3 trial of Tedopi® in patients with advanced non-small cell lung cancer (NSCLC) with secondary resistance to PD-1/PD-L1 immune checkpoint inhibitor, a hard-to-treat patient population with high unmet medical need. Based on the finalized positive results of Atalante 1, we are preparing discussions with regulatory agencies on optimal paths for potential approval of Tedopi® in patients with NSCLC in secondary resistance after immune checkpoint inhibitor treatment."
The Atalante 1 clinical trial evaluated the benefit of Tedopi® in an HLA-A2 positive patient population with NSCLC at invasive stage IIIB or metastatic stage IV, in 2nd or 3rd line treatment following checkpoint inhibitor failure. The Tedopi® treatment was compared to docetaxel or pemetrexed chemotherapy (CT) treatments in this patient population, with overall survival as the primary endpoint of the trial. Tedopi® demonstrated a favourable benefit/risk ratio versus standard of care (SoC) docetaxel or pemetrexed in advanced HLA-A2 positive NSCLC patients with secondary resistance to PD-1 or PD-L1 immune checkpoint inhibitors.