18 November 2021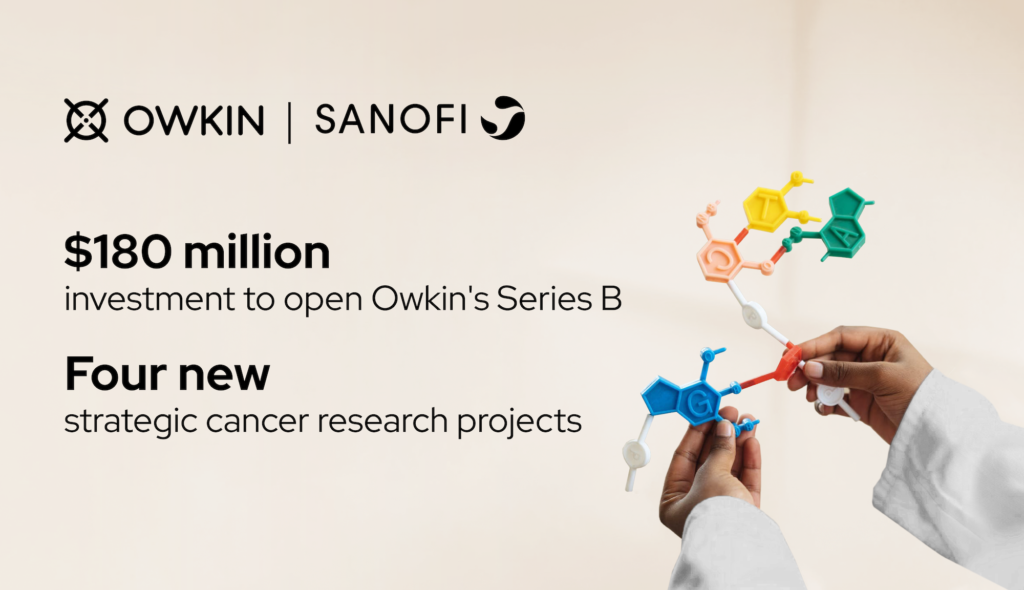 Owkin and Sanofi are delighted to announce that Owkin is now a 'unicorn' – a startup valued at more than $1 billion – through a new $180 million investment from Sanofi. Alongside the investment, Owkin and Sanofi are also announcing a strategic multi-year collaboration to research new treatments for four cancers.
This collaboration comprises discovery and development programmes in four exclusive types of cancer. The total payment for three years is $90 million, plus additional research milestone-based payments. Owkin, an artificial intelligence (AI) and precision medicine company, builds best-in-class predictive biomedical AI models and robust data sets. With the ambition to optimize clinical trial design and detect predictive biomarkers, this collaboration will support Sanofi's oncology portfolio in core areas such as lung cancer, breast cancer and multiple myeloma.
Owkin has assembled a global research network powered by federated learning to accelerate medical research in a privacy-preserving way. This research network allows data scientists to securely connect to decentralized, multi-party data sets and train AI models without pooling data. Sanofi's scientists apply cutting-edge technologies to design potentially life-transforming medicines for cancer patients worldwide. As a result, this approach will complement Sanofi's emerging strength in oncology.
"Owkin's unique methodology, which applies AI on patient data from partnerships with multiple academic medical centres, supports our ambition to leverage data in innovative ways in R&D. We are striving to advance precision medicine and to discover innovative treatment methods with the greatest benefits for patients." ARNAUD ROBERT, EXECUTIVE VICE PRESIDENT, CHIEF DIGITAL OFFICER, SANOFI
Sanofi will leverage the comprehensive Owkin Platform to find new biomarkers, build predictive models and predict response to treatment from multimodal patient data. Sanofi's investment will support Owkin's development to grow the world's leading histology and genomic cancer database from top oncology centres.
"Owkin's mission is to improve patients' lives by using our platform to discover the right treatment for every patient. We believe that the future of precision medicine lies in technologies that can unlock insights from the vast amount of patient data in hospitals and research centres in a privacy-preserving way. This landmark partnership with Sanofi will see federated learning used to create research collaborations at a truly unprecedented scale. The future of AI to transform how we develop treatments is incredibly bright. We are proud to partner with Sanofi on this mission." THOMAS CLOZEL, M.D., CO-FOUNDER AND CEO AT OWKIN
"We look forward to working with our colleagues at Owkin to analyze data from hundreds of thousands of patients. Sanofi's investment in the company will help discover and develop new treatments for non-small cell lung cancer, triple-negative breast cancer, mesothelioma and multiple myeloma. This partnership will help accelerate our ambitious oncology program as we advance a rich pipeline of medicines to address unmet patient needs."  JOHN REED, M.D., PH.D., GLOBAL HEAD OF RESEARCH AND DEVELOPMENT, SANOFI