11 February 2020
LATE 2019 AND EARLY 2020 WERE MARKED BY STRONG INNOVATION AT THE ANGERS CHU. THE HOSPITAL ESTABLISHED SEVERAL PARTNERSHIPS AIMED AT DEVELOPING INNOVATIVE PROJECTS SUCH AS THE "MAISON DE L'INGÉNIEUR EN SANTÉ" WITH THE ESEO SCHOOL OF ENGINEERING, THE MANS HOSPITAL CENTRE AND THE ANGERS AND MANS UNIVERSITIES. THESE PROJECTS ARE SUPPORTED AND ENCOURAGED BY THE NEW CHU MEDICAL COMMITTEE AND ITS NEWLY APPOINTED DIRECTOR OF RESEARCH AND INNOVATION, LOÏC CARBALLIDO.
On 18 November 2019, the Angers CHU and the ESEO School of Engineering officially joined forces to promote the development of innovative projects dedicated to the healthcare service of tomorrow. This convention will underpin the "maison de l'ingénieur en santé", a virtual structure that provides a skills hub for medical personnel and engineers in the healthcare sector who will focus on the design and development of technological tools. This collaboration will involve internships, final year study projects, shared workshops, and the pooling of technical means and resources. The "Maison de l'ingénieur en santé" is strongly committed to the joint submission of applications with calls for proposals on a national and international scale.
Another important partnership, the SAM network, was officially launched on 27 November by the four founding partners, Angers University and CHU together with the Mans University and Hospital Centre. This network seeks to promote collaborative initiatives in the fields of healthcare and physical activity, integrating the engineering and human and social sciences domains. A multi-disciplinary agreement has already initiated several projects such as the Numen programme, which brings together psychologists and engineers to study the problematic of entry into EHPADs (nursing homes for dependent elderly persons) such as the provision of a customised personal entry plan to potential residents using digital tools.
This partnership model that federates the healthcare, research and training sectors has been wholeheartedly approved by Alain Mercat and Guillaume Bouhours, respectively the incoming President and Vice-President of the Angers CHU Medical Committee (CME). Longstanding contributors to the institutional life of the Angers CHU, these two physicians work hard to ensure that the hospital's medical environment continues to attract young doctors. Pr Alain Mercat, Head of the Intensive Care Department – Resuscitation and Hyperbaric Medicine, and Dr Guillaume Bouhours, who runs the Emergency – Crash Room Anaesthesia Unit, are seeking to raise the profile of the research and training sectors by supporting the very large number of projects developed by the medical community.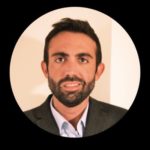 These projects will also be supported by Loïc Carballido, who joined the Angers CHU as Director of Research and Innovation (DRCI) on 2nd January 2020. The principal responsibilities of Loïc Carballido and the DRCI teams will be to support research initiatives within the CHU, and to strengthen institutional and industrial partnerships. Lastly, the Angers CHU will be responsible for formalizing and rolling out a fully-fledged innovation policy both within the Angers ecosystem, and France-wide.