Bioprocess development webinar
Tackling challenges in Development and scale-up of Virus and Vaccine Manufacturing Processses using microcarriers.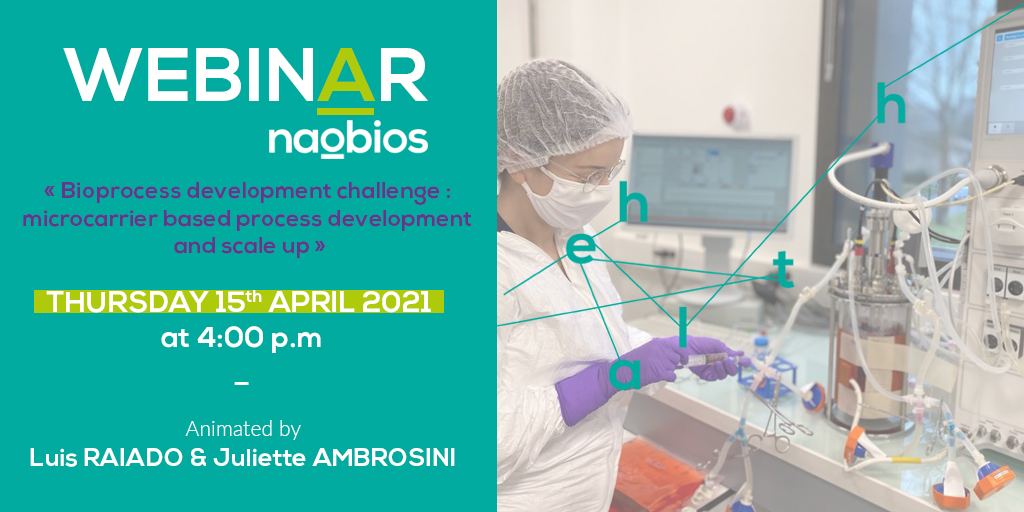 Save the date, The next Naobios webinar will take place on April 15th! Join Luís Raiado and Juliette Ambrosini next month for a brand-new edition tackling challenges posed by microcarrier-based processes in bioprocess development and scale-up.
Adherent cells are widely used to produce viral vaccines. In this context, process development based on bioreactors using microcarriers is the best solution for these cell types to reach volumes required at commercial scales. However, developing related processes and scaling them up is challenging.
Naobios has a long-standing experience working with customers worldwide to develop, optimize and scale up upstream and downstream processes used to manufacture vaccines (both live and inactivated) and oncolytic viruses. Our GMP manufacturing capacity also gives us a comprehensive overview of expectations when building and articulating processes for clinical and commercial purposes.
This webinar aims to show the strategy of Naobios on how to successfully implement microcarrier based processes and subsequent scale-up to 250L.
 Experts:

Juliette Ambrosini holds an engineering degree with a major in biotechnology.
She joined Naobios in 2015 as bioprocess engineer – then moved on to a project manager position. She thus takes part in the implementation of processes, including USP and DSP development, scale-up and transfer to GMP manufacturing. Within Naobios, she is one of the reference specialists-for Bioprocess Development topics
Luís holds a PhD in biotechnology focusing on downstream process development, and particularly for the purification of plasmid DNA for vaccines and gene therapy, where he published several scientific papers with relevant impact. As a post-doc researcher, he also worked on development of downstream processes for several other biological entities, as virus-like particles (VLPs), viral vectors and proteins. In 2020, after 4 years as a business developer in the biosafety testing field, he joins Naobios as business development manager.
Looking forward to seeing you on April 15th, 2021 at 4pm for this new webinar.