5 February 2021
Right at the very beginning of the health crisis in March 2020, members of the Atlanpole Biotherapies cluster found themselves on the front line and immediately joined forces to fight against COVID-19, the disease caused by the SARS-CoV-2 virus. They engaged in a range of issues that included patient management and the development of tests, treatments or vaccines. One year later, their commitment remains as strong as ever and now, in 2021, a new year is dawning, one with a more optimistic outlook. I am pinning my hopes on the success of ongoing clinical trials, some of which are being run by Grand Ouest companies as part of the effort to find a solution to this health crisis. There are two strategies for exiting this crisis:
Achieve collective immunity by vaccinating a majority of the population,
Develop a therapeutic solution to cure patients infected with the virus, who are suffering respiratory failure.
France's Grand Ouest region is perfectly placed to work on both approaches.
Valneva and Ose Immunotherapeutics – working to develop the vaccine
Valneva has launched human clinical trials aimed at developing its anti-COVID vaccine and has already announced the successful recruitment of 150 healthy adult volunteers for its Phase 1/2 clinical study. The technology relies on the conventional approach of injecting an inactivated virus. As well as these studies, further clinical trials are also in progress; Valneva has announced that it has begun production of the vaccine in order to optimise the scheduling of potential deliveries. Valneva has already signed an agreement with the British government for the supply of a maximum of 190 million doses and is in advanced discussions with the European Commission for the supply of 60 million doses.
Ose Immunotherapeutics is developing a ground-breaking disruptive technology. The idea is to induce a T lymphocyte immune response for targeted destruction of infected cells, while leaving healthy cells alone. Clinical trials on humans are scheduled to begin next month.
Xenothera is developing a drug to cure patients infected with Covid-19
Xenothera has launched the development of a drug designed to prevent patients infected with the SARS-CoV-2 coronavirus from developing severe respiratory disorders that require monitoring in intensive care units. The therapeutic principle involves an injection of polyclonal antibodies able to neutralize the virus. The company has initiated clinical trials, with the University Hospital of Nantes in particular.
For many years now, major players in the Grand Ouest region have been investing heavily in the development of innovative biotherapies. Today, these companies exemplify the virtues of an innovation ecosystem built up over time, based on a cooperative effort between representatives from university hospitals, academic research, businesses, and support structures such as incubators, technology hubs, SATT and other competitiveness clusters that interface with the healthcare sector.
There are two aspects to this virtuous process: innovation and a shared purpose of all players, demonstrating a strong team spirit despite their very different natures and backgrounds.
With important, ongoing support from regional authorities, the French State and Europe, this process is the cornerstone of national and European sovereignty on Healthcare issues.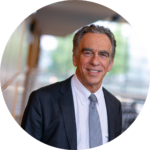 Jean-François BALDUCCHI
CEO of Atlanpole
& Executive vice president of Atlanpole Biotherapies