30 January 2020
ESITech or  Engineering School for Innovative Technologies, trains general engineers with two possible majors: Physical Engineering and Biological Engineering.
The school belongs to the University of Rouen Normandie, which is a member of Normandie University (~70000 students). It is located in Normandy at the south of the Rouen agglomeration, at 1h10 north-west of Paris by train. It benefits from a specially favorable environment:  innovative companies, technological transfer centres and high education institutions (faculty of sciences, INSA Rouen, for example).
The school has been created in 2014, in partnership with another engineering school (INSA Rouen Normandie).  A convention has been signed between the two institutions. Since 2015, ESITech belongs to the 'INSA group', which brings together 14 French engineering schools (~2300 graduated engineers per year).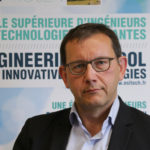 Claude Rozé ,
Director