12 October 2022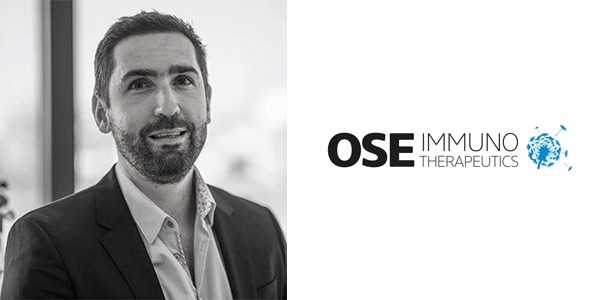 OSE Immunotherapeutics is pleased to announce the appointment of Dr. Nicolas Poirier as new Chief Executive Officer. This appointment follows the decision of the Board of Directors to terminate the mandate of Alexis Vandier.
Throughout his career, Dr. Nicolas Poirier has demonstrated both his expertise as an international scientific leader, pioneering the discovery and development of innovative immunotherapies, and indepth knowledge of the biotech sector through various strategic leadership roles. He has been instrumental in the development of OSE Immunotherapeutics, notably as the initiator of 5 programs in the Company's portfolio that are now in clinical stage. He also played a major role in the signature of 4 strategic pharmaceutical partnerships for OSE Immunotherapeutics.
"Since the creation of OSE Immunotherapeutics in 2016, Nicolas' world-class scientific expertise, along with his well-recognized human and leadership skills have been vital in the development of the Company, guiding the advancement from the identification of new therapeutic targets into the development of new drugs for severe diseases with a strong medical need. He has been essential in building our diversified portfolio of first-in-class products. He has been able to convince leading scientific experts and our pharmaceutical partners of the value of our innovations. Nicolas' leadership will allow OSE Immunotherapeutics to accelerate the implementation of our strategic priorities and to achieve new growth milestones," said Dominique Costantini, President of OSE Immunotherapeutics.
Nicolas Poirier, Chief Executive Officer and Chief Scientific Officer of OSE Immunotherapeutics, commented: "I am very honored to be appointed CEO and would like to thank the Board of Directors for placing their trust in me at a key stage of the Company's development. I am proud of the work accomplished by our teams, all of whom are focused on advancing our late-stage clinical development programs and high-potential research platforms. I am deeply convinced that OSE Immunotherapeutics' assets will be able to transform the care of patients suffering from cancer and chronic inflammatory diseases."
Nicolas Poirier holds a PhD in Immunology (European Center for Transplantation and Immunotherapy Sciences, Nantes), a double master's degree in Biotechnology from the University of Nantes and in Pharmacology from the University of Louis Pasteur in Strasbourg and a certification in Global Management from INSEAD. Nicolas Poirier has been Chief Scientific Director and member of the management team of OSE Immunotherapeutics since 2016. He started his career at Tcl Pharma in 2009 as a researcher, became Project Manager at Effimune in 2012, then Director of R&D programs in 2014. In addition, Nicolas Poirier in an active member of the Strategic and Scientific Advisory Committee (COSSF) of the French biomedical industry association (MabDesign). Over the past fifteen years, he has authored more than 50 peer-reviewed international scientific publications and holds over 40 issued patents in the field of 2 immunotherapy. Nicolas Poirier and his team have obtained more than 45 million euros in French and European public funding to co-finance OSE Immunotherapeutics' research and development programs.